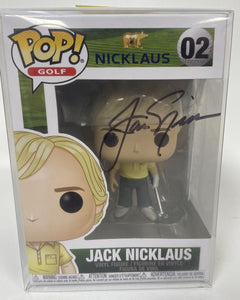 Jack Nicklaus Signed Autographed PGA Golf Funko Pop - COA Matching Holograms
Features:

Autographed by Jack Nicklaus
COA with matching serial-numbered Hologram stickers
Lifetime Guarantee of Authenticity COA
Funko Pop
Beautiful display piece

Details: A fantastic Funko Pop hand-signed by PGA legend Jack Nicklaus. It comes with our lifetime guarantee of authenticity COA with matching serial-numbered, tamper-proof hologram stickers. All of our items are guaranteed authentic for life and are backed by our 20+ years in the autograph business. All items are hand-signed; we never sell copies or reproductions of any kind.